February 14, 2022-March 18, 2022
24 half days
Course Director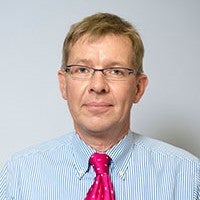 Peter Veldkamp, MD
Professor
Department of Medicine
Division of Infectious Diseases
pjv4@pitt.edu
Course Director


James Bina, PhD
Professor
Department of Microbiology and Molecular Genetics
jbina@pitt.edu
Course Description
This course introduces basic concepts of infectious disease.
Course Goals:
The basic science foundation of Medical Microbiology necessary for your clinical education and for passing Part 1 of the USMLE boards.
Important clinical concepts in the medical field of infectious diseases.
Microbial diagnosis (the basis, sensitivity, and limitations of clinical diagnostic tests).
Etiology (infectious agents responsible, differential diagnoses – infectious or not).
Epidemiology (transmission, susceptibility, patterns).
Pathogenesis (how the organisms cause disease).
Symptoms (symptoms that help in diagnosis, how these symptoms relate to disease).
Prevention (vaccines, hand washing, etc.).
Treatment (drug or other treatment options).
Complications (spectrum of disease, other complications of infection).
Educational Methods
Lecture
Laboratory
Virtual laboratories on the course website
Small-group problem-based learning cases
Clinical correlations
Optional quizzes
Infectious disease conference
Clinical case presentations
Evaluation
Evaluation for this course is based on attendance and participation in laboratories and problem-based learning sessions, weekly quizzes and a final multiple-choice examination.
Grading: This course comprises 45% of the grade for the Foundations of Medicine Block, Section 3. Grading for the block is Satisfactory or Unsatisfactory.
Faculty Note
Course Co-Director James Bina, PhD, has been teaching microbiology and bacterial pathogenesis to medical students and graduate students for more than 15 years. Course Co-Director Peter Veldkamp, MD, is a recipient of the Kenneth E. Schuit Master Educator Award, multiple Excellence in Education Awards for Course Director, the Clinical Educator of the Year Award, and the Clerkship Preceptor of the Year Award. In addition, Dr. Veldkamp is a member of the UPSOM Academy of Master Educators.