August 15, 2022-September 16, 2022
24 half days
Course Director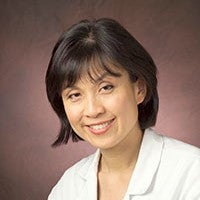 Jenifer Lee, MD
Professor
Department of Medicine
leeje@upmc.edu
Course Description
The Cardiovascular course is the first in a sequence of three courses (CV, Renal, Pulmonary) which focus on Body Fluid Homeostasis.
Course Goals:
To understand normal cardiac anatomy, cardiovascular physiology, and cardiac electrophysiology.
To gain a basic comprehension of common pathophysiological conditions which affect the cardiovascular system.
To know the mechanisms of action and clinical uses of common-cardiovascular medications.
To learn the physical findings, clinical presentation, diagnostic tools and basic treatments used in the management of cardiovascular disease.
Educational Methods
Educational methods are summarized below. The APE cardiovascular physical diagnosis sessions are taught using a computer-based cardiac ascultation simulation software.
Lectures
Web-based module
Problem-based learning
Blaufuss CD-ROM
Small-group workshops 
Self-study
Evaluation
Evaluation for this course is based on two examinations: 1) the midterm exam counts toward 30% of the final course grade 2) the final exam accounts for 50% of the final grade.  In addition, small group workshop attendance accounts for 20% of the total grade.
The percentage breakdown for the Organ Systems Pathophysiology Block, Section 2 is as follows:: Cardiovascular (44%), Renal (28%), Pulmonary (28%). Grading for this block is Satisfactory or Unsatisfactory.
Faculty Note
Course Director Jenifer Lee, MD, is a recipient of the Excellence in Education Award for Small Group Facilitator. William DeGroat, MD is a recipient of the Kenneth E. Schuit Master Educator Award. In addition, Drs. DeGroat; Donald DeFranco, PhD; William Follansbee, MD; Joan Lakowski, PhD; Jenifer Lee, MD; and William McIvor, MD, are members of the UPSOM Academy of Master Educators.