September 19, 2022-October 7, 2022
15 half days
Course Director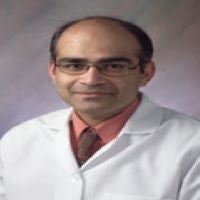 Mohan Ramkumar, MD
Clinical Associate Professor of Medicine
Department of Medicine
mohan.ramkumar@va.gov
Course Description
The Renal Course is second in a sequence of three courses (CV, Renal, Pulmonary) that focus on Body Fluid Homeostasis.
Course Goals:
To understand the relationship between structure and function in the renal organ system.
To learn the embryologic basis of structure-based malfunctions in the kidney.
To learn primary cellular processes that mediate the actions of pharmaceutical agents that are active in the renal system and how kidneys participate in establishing drug levels in circulation.
To understand the etiology and treatment of common diseases of the renal system.
To gain a good understanding of salt and water balance and the critical importance of this function to homeostasis.
Educational Methods
Lectures
Pathology laboratories
Small-group workshops
Laboratory sessions
Evaluation
Evaluation for this course is based on a single multiple-choice examination (80%) and on attendance, and participation in PBL sessions and workshops (20%).
The percentage breakdown for the Organ Systems Pathophysiology Block, Section 2 is as follows:: Cardiovascular (44%), Renal (28%), Pulmonary (28%). Grading for this block is Satisfactory or Unsatisfactory.
Faculty Note
Cynthia Lance–Jones, PhD; Beth Piraino, MD; Steven Tofovic, MD, PhD; and Peter Veldkamp, MD, are recipients of the Kenneth E. Schuit Master Educator Award. Dr. Cynthia Lance-Jones is also a recipient of the Sheldon Adler Award for Innovation. Peter Veldkamp, MD, MS is a recipient of the Clerkship Preceptor of the Year Award, In addition, Dr. Johnston is the director and Drs. Lance-Jones, Piraino, Tofovic, and Veldkamp are members of the UPSOM Academy of Master Educators.