4 weeks
Course Director

Clifton W. Callaway, MD, PhD
Associate Professor
Department of Emergency Medicine
callawaycw@upmc.edu
Course Director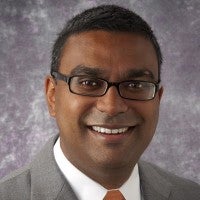 Ankur A. Doshi, MD
Associate Professor
Department of Emergency Medicine
doshiaa@upmc.edu
Course Description
This course examines current issues in cardiopulmonary resuscitation (CPR), emphasizing how basic science, clinical research and health sciences research in acute resuscitation science has been translated into clinical practice. The goal is to provide students with a framework to critically assess medical literature and review guidelines, that they can then translate into their own practice. We evaluate the primary evidence (original research) upon which the current Advanced Cardiac Life Support (ACLS) protocols are based and identify gaps in current knowledge.
The didactic portion consists of journal-club style small-group sessions with the faculty five days per week. During these sessions, the group critically evaluates practical actions advocated by ACLS using an evidence-based format.
Weekly simulation sessions help students practice their clinical knowledge in settings of critical illness. Each student will review patient care in an observer status with the UPMC Post Cardiac Arrest Service to further understand how resuscitation science is translated into clinical care. A group capstone project will allow students to synthesize the knowledge regarding guidelines assessment and development in a creative fashion. During the course, students may complete the required material for certification in ACLS.
This course satisfies the Integrated Life Science course requirement. Students are permitted to miss up to 5 days of the course based on UPSOM guidelines but must complete an additional project for each session greater than 3 than are missed.
The overall goals of this course are for students to gain an understanding of the scientific underpinnings of resuscitation medicine and to learn tools to review and assess medical literature.
Course Goals:
Understand how basic physiology has been translated into clinical guidelines for cardiopulmonary resuscitation.
Develop proficiency in the practical skills of resuscitation.
Develop skill in critical analysis of medical literature.
Identify the major physiological influences affecting resuscitation and trace their implementation into clinical guidelines.
Be able to critique pre-clinical and clinical studies.
Become confident in conducting a medical resuscitation, including use of relevant equipment.
Appreciate the practical and ethical issues surrounding research on emergency interventions.
Educational Methods
Journal club sessions
In hospital observation
Simulation sessions
Peer presentations
This course involves no weekend or on-call duties.
Evaluation
Grading is Honors / High Satisfactory / Satisfactory / Low Satisfactory / Fail.
Faculty Note
Course Directors Clifton W. Callaway, MD, PhD, and Ankur A. Doshi, MD are recipients of the Sheldon Adler Award for Innovation in Medical Education. Dr. Doshi is a recipient of the Donald S. Fraley for Medical Student Mentoring Award. In addition, Dr. Doshi is a member of the UPSOM Academy of Master Educators.