October 25, 2021–October 29, 2021
1 week
Course Director

Jason Chang, MD
Assistant Professor
Department of Emergency Medicine
changjs2@upmc.edu
Course Director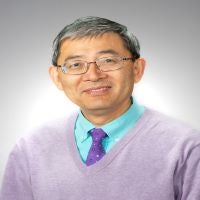 Huai Cheng, MD, MPH, MS
Associate Professor
Division of Geriatric Medicine
chenghy@upmc.edu
Course Description
Interprofessional Geriatrics Week focuses on an interprofessional team approach to complex issues related to aging, which span the basic sciences, clinical acumen, and profound socioeconomic issues for our society.  The course is intended to help medical students, as well as students from multiple healthcare disciplines, understand the critical issues of clinical practice and the importance of interprofessional and team-based health care for geriatric patients.  The course focuses on the 5M's of Geriatric Medicine. The "Ms" stand for the targets that are important to care for us all as we age.  This course will also frame the importance of Geriatric Medicine through the lens of the older adult.
The course is placed in the curriculum at the mid-point of the third year, which is a unique teachable moment where students can benefit from focused instruction on key geriatrics topics which are commonly encountered during the core clerkships.  The course also provides an opportunity for medical students to work together with other health professional students which mimic the collaborative practice with other disciplines during the core clerkship. Interprofessional Geriatrics Week is designed to provide students with the knowledge, skills, and experience to recognize and manage common problems in older adults using an interprofessional approach within the geriatrics 5Ms framework.
All content, small groups, and lectures will be delivered via live Zoom sessions.
Course Objectives:
At the end of the course, students will be able to:
Describe Geriatrics 5Ms (multi-complex, what matters, mentation, medications, mobility) and apply it to the care for all older adults.
Describe the unique expertise, roles and responsibilities of each health profession and discipline in the care of the older patient.
Practice interprofessional collaborative teamwork skills and problem-solving in teams made up of students from at least three different health professions or disciplines.
Understand the older adult perspective and vulnerability of this population raised by the COVID-19 public health crisis.
Educational Methods
Lectures
Small-group
Older adult live encounters
Interprofessional team-based assignments
Evaluation
Evaluation for this course is based on attendance and participation in the various course sessions. There will be NO pre-tests or course examination.
Grading: This course is graded Satisfactory / Unsatisfactory.