4 weeks
Course Director


Anna Donovan, MD, MS
Assistant Professor
Department of Medicine
donovanak2@upmc.edu
Course Director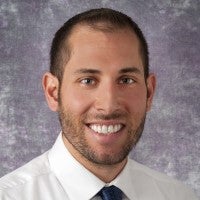 Adam Tobias, MD, MPH
Associate Professor
Department of Emergency Medicine
tobiasa@upmc.edu
Course Description
This required rotation is an intensive preparation for students who are about to enter residency. Students will be provided with a combination of general and specialty-specific, clinically relevant content in a variety of modalities. The focus will be on practical content that will prepare the student to function at the starting level of an intern after graduation.
Students will be asked to select from one of the following tracks: Internal Medicine, Pediatrics, Emergency Medicine, OBGYN, or Psychiatry. Those students entering a surgical residency or needing a surgical internship are encouraged to enroll instead in SURG 5411 (which will also meet the boot camp requirement). Because we are unable to offer specialized tracks for all possible specialties, students entering specialties other than those offered are encouraged to select the track that they find most relevant.
The majority of the course content will be relevant to all students, regardless of specialty.
Course Goals:
To integrate clinical skills and knowledge in preparation for internship.
To integrate knowledge obtained throughout the four years of medical school and translate it into treatment of complex patients with multi-system issues.
To interpret disease processes on chest x-rays, abdominal films, and CT scans.
To learn the proper way to communicate with patients, parents of patients, and other health care providers.
To manage (through simulation) a variety of urgent patient situations the student may encounter while on call in the hospital.
To help students develop essential and durable approaches to personal and financial wellness.
To become familiar with engaging consultants in patient care.
To become familiar with responding to on-call phone calls from nurses and other health professionals.
Course Topics for the Entire Group (tentative list-in addition to specialty-specific track content)*
Acute Care Skills Sessions
Certification in Basic Life Support (BLS)/Advanced Cardiac Life Support (ACLS)
High-fidelity simulation of multiple acute patient scenarios (e.g. cardiac arrest, acute respiratory failure, stroke, tachyarrhythmias, death pronouncement, etc.) including a "finale day" in which essential skills are integrated and practiced.
A basic skills workshop using simulated techniques for common issues including obtaining IV & IO access, drawing peripheral blood, and performing ABG's.
A basics content session of commonly encountered devices for patients including oxygen delivery systems, cardiac telemetry monitors, IV pumps, and foley catheters.
A framework for providing acute pain management, using both opioid and non-opioid treatments.
Communication Skills Sessions
Eliciting a patient's goals of care and code status
Obtaining Informed consent
Assessing decision making-capacity
Delivering bad news to patients
Disclosing medical errors to patients
Communicating with consultants
Transitions of care
Team dynamics and communication
Professional Development Skills Sessions
Introductory teaching skills
Finding meaning in medicine
Healthy sleep habits
Maintaining wellness in residency
Financial planning and wellness
*See SURG 5411, recommended for students who are pursuing surgery.
Educational Methods
Small group sessions
Case discussions
Capstone Project
Lectures
Video presentations
Panel discussions
Standardized patient sessions
Simulation sessions
Procedural workshops
Evaluation
Grading is Satisfactory/Unsatisfactory and is based on attendance, participation, and professionalism.
Faculty Note
Dr. Anna Donovan, MS, MS is a clinician-educator in the Division of General Internal Medicine and serves as the Associate Program Director for the Inpatient Medicine in the Internal Medicine Residency Program. She practices primary care/Women's Health and Hospital Medicine at UPMC Presbyterian, where she also teaches residents and medical students in these clinical settings. Her scholarly interests include medical education research, curriculum design and implementation, and quality improvement initiatives around inpatient Internal Medicine. Dr. Donovan is the recipient of numerous awards including the School of Medicine's Clinical Educator of the Year Award, as well as presentation awards locally in the Department of Medicine and Graduate Medical Education and nationally for the Society of General Internal Medicine.
Dr. Adam Tobias, MD, MPH serves as Associate Program Director of the Emergency Medicine Residency program. He has a strong interest in resident and medical student education, serving as course director of the emergency medicine residents Difficult Airway Course and as co-course director of the fourth-year medical student clerkship in Emergency Medicine. He is also the creator and course director of the Bystander Emergency Response elective for first-year medical students. He is the recipient of numerous awards, including  the Arnold Gold Humanism in Medicine Award, the University of Pittsburgh School of Medicine Clinical Educator of the Year Award, the Alpha Omega Alpha Faculty Award, and the Clerkship Directors in Emergency Medicine Young Educator of the Year award.